Since 1993, 100 stores in Taiwan
Superior Commercial Service Brands Certificate in Taiwan

Dante Coffee is a franchise coffee shop from Taiwan, the name was adopted from the famous Italian name Dante to reflect the founder's passion and devotion to the Italian ambiance in providing high quality coffee, and introducing coffee shop concept in Taiwanese market.
Dante Coffee launched its first store in 1993, and has the honor to get "Superior Commercial Service Brands Certificate" from Ministry of Economic Affairs in Taiwan. In order to bring the coffee culture into people's life, Dante Coffee became the first coffee shop to provide its costumers with high quality coffee at an affordable price.
With its exquisite modern style and high quality service, Dante Coffee has established a solid position in the coffee market. After years of continuous refinement of various flavors and delicious meals, Dante Coffee has adopted a regional marketing strategy to cultivate different segments of the market. There are now around 100 Dante coffee shops in Taiwan, 8 in Indonesia, 5 in Kuwait.
The Company believes in providing its customers with the highest quality drinks and meals at an affordable price. Dante Coffee shops are built to provide a relaxing and enjoyable atmosphere for its costumers. A break from the everyday!
Franchise Opportunity
Dreams can come true if set in the right direction. In regard to extreme competition in the coffee market, running a cafe risks much for not only requiring finding out management trick by oneself but also demanding adroit manipulation to deal with short finance. Opposing to that, franchise of chain store reveals rather less risky, not only has complete standard operating procedure, but also can share succeed experiences.
Dante will impart the succeed experience during 26 years in Taiwan to international franchisee, and help franchisee expand the territory of coffee chain store. Dante Coffee welcomes all the franchisees who interest in coffee chain store management to join us, and initiate the turning point of Dante Coffee together.
The service the Headquarter provides to Franchise
Complete pre-job training and specific training course to different ranking
Reduction of preliminary time to start the shop
Decrease of purchasing cost
Unity of standard process
Full-set of conducting form
Integrated product combination and market position
Share of result of new product's R&D
Suggest and advance of promotive activity
Share of successful experience
Support from high-profile leading brand in Taiwan
The job that franchisee have to do
Evaluate and comment to business market and location by your own
Search suitable food ingredient in local place by your own
Search same facilities that headquarter requested in local place
Build POS system that suit to local place
Contact Us

Tel: 886-2-2736-5138 ext 608
Fax: 886-2-2736-3678
Email: franchise@dante.com.tw
11F, No.268,Sec.2,Fusing S. Rd.
Taipei, Taiwan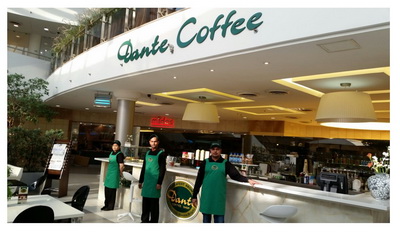 The franchise of Indonesia
Hengky Wijaya
PT. SELERA SUKSES PRATAMA
Tel: +62 811811638
Email: hengky_wijaya@hotmail.com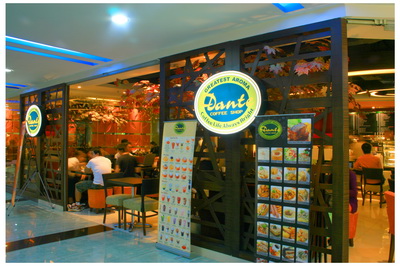 The franchise of Middle East
Imad Alzahabe
Al-Hareer Franchising Company, Kuwait
Tel: +965 22971181
Mobile: +965 50105800
Email: Imad@alhareer.com.kw